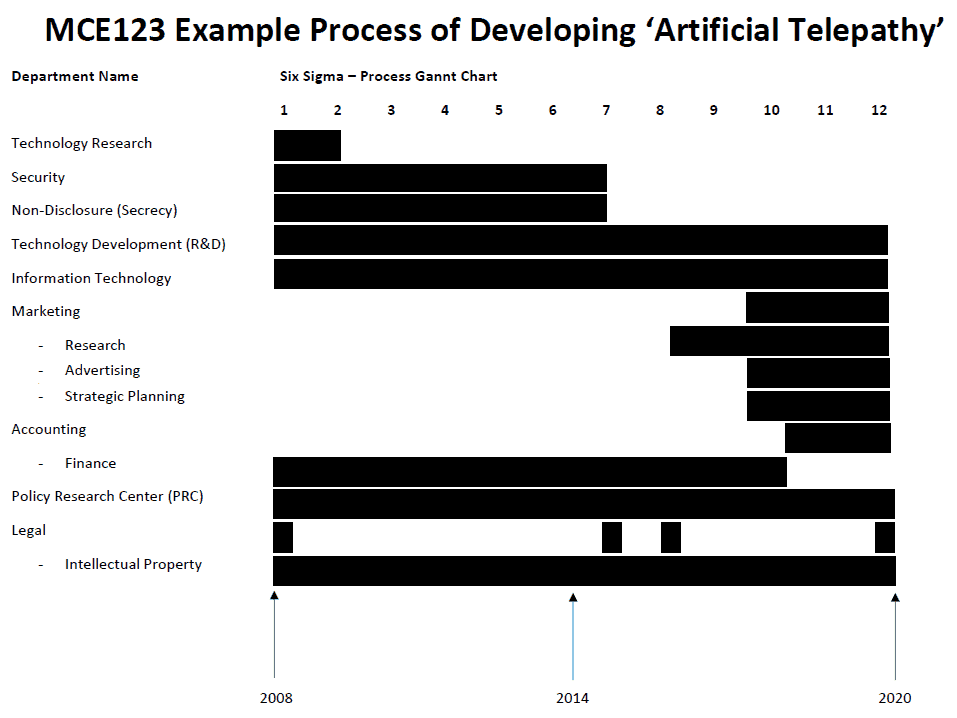 Six Sigma – Development of Artificial Telepathy
This article shows the various inter-departmental processes that take place, per department, on average, over a 12-year Research & Development stage. Processes can include researching existing technologies and Patent filings, maintaining security over the intelligence, conducting comprehensive Technology Development – or the development of language to support the claims of the filings, management of existing infrastructure and integration, Accounting & Finance processes, Marketing & Market Research work, and others as well.
The structure of the processes between the departments, are that the various departments share intelligence with each other throughout their processes. The processes are not necessarily indicative of financial activities that pertain specifically to securing the technology.
For Artificial Telepathy, the technology and works have been under the Secrecy clause since their inception in approximately 2008.
The technology concept was originally developed as a way for the MCE123 Company Founder to interact with various candidates for personal relationships, and has continued to do so. The technology is not currently being used for any Marketing purposes, per se, however there have been legitimate business activities over the period of the last 9 years relating to Artificial Telepathy.
Evidence of the work that has taken place on Artificial Telepathy includes a significant amount of Top Secret civilian military intelligence, and intense financial hardships for the MCE123 Company Founder, in addition to other types of hardships. The technology is in no way easy to produce – we did not simply go and look at other people's work to develop the technology documentation. It has been continual processes of work throughout the past 9 years that have cumulatively developed Artificial Telepathy.