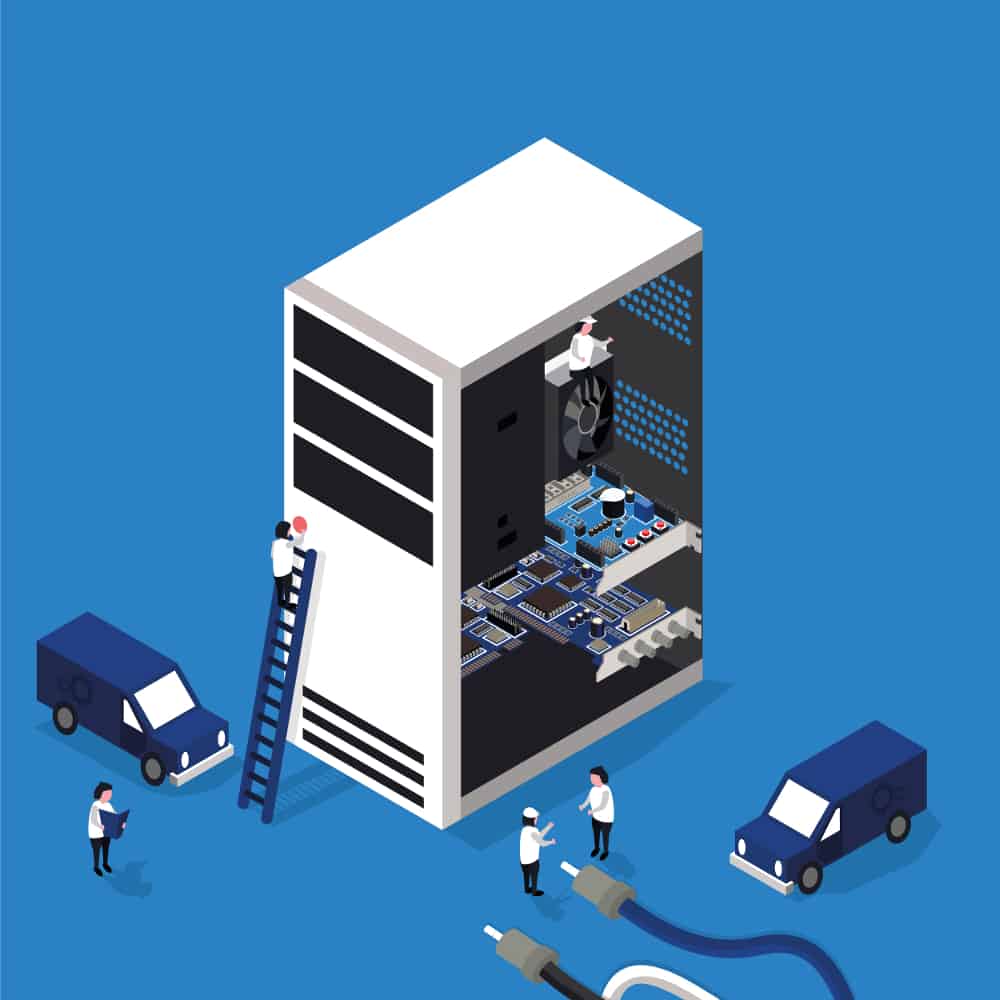 We provide on-site computer consulting services in the greater New Hampshire seacoast area including Portsmouth, Dover, Barrington, Lee, and Madbury, as well as Manchester, Nashua, and Concord, NH and surrounding areas. To learn more about our service area, please contact us.
We emphasize the quality of service, and not necessarily the quantity of service. We customize our on-site services to provide the optimal service that is necessary for very needy customers. We take pleasure in diagnosing complex issues, that often run over the clock.
We have extensive experience in the field of on-site services, and we are seeking to expand our skills and knowledge in the areas of customer service, small office/home office networking, small business services, enterprise solutions, as well as needy non-profits of both 501(c)3, and 501(c)4, regardless of political affiliations.
Our rates for these services are generally $175.00 for a 2-hour appointment, and there is no fee for driving time as long as it is within our service area. Nominal transportation charges may occur if multiple trips are required, or if the work is out of our normal service area/service schedule.
Diagnosis of Computer Hardware Issues
We use PC-Doctor, which can perform over 500 systematic tests on your hardware, including on Windows 10 and prior versions, DOS, Linux, Mac, and Android systems. We have hardware testing devices that can test network connectivity, printer connections, USB connections, memory cards, CPU and motherboards, and test all other computer hardware for errors including hard drives and CD/DVD/Blu-Ray drives. We can provide a report of your hardware's tests, and there is no additional cost for the testing - it is included in the on-site fee. An example of the type of testing that we can do is detect a failure in your hard drive before your hard drive actually fails, and we can swap out the hard drive immediately, saving your data. Everything is backed up by our custom reports from PC-Doctor. We never do anything that isn't necessary.
Installation / Configuration of Software
We are experienced with all types of software to be installed and configured for Windows, Linux, Mac, and other operating systems. We can setup the software to work on your hardware in the way that you want it to. Common applications that we install include Microsoft Windows and Microsoft Office. Since we are computer programmers, we are familiar with all forms of tweaking systems to make things work, in the event that something gets hung up in the software. You can be sure that we'll solve the problem, regardless of how complex it is!
Installation / Configuration of Hardware
We can install and configure any type of computer hardware that you have purchased, or we can purchase the necessary hardware and install it for you, whether it be in an older system or a new system. We are familiar with all types of computer hardware, including hard drives, disc drives, tape drives, network drives, CPUs including Intel i3/i5/i7/i9/XEON and AMD models, motherboards, peripheral cards, memory cards, SSDs, NVMe, card readers, USB hubs, monitors, drawing tablets, printers, scanners, network equipment, and much more! Anything you need to be done as far as hardware is a simple endeavor for us to complete!